Santa Sophia Catholic Early Learning Centre will provide quality early learning for children 3 to 5 years, and will operate 49 weeks in the year from 6:30am - 6:00pm Monday to Friday.
Children who begin their educational journey at Santa Sophia will be engaged in experiences linked to the Santa Sophia Learning Framework as well as following the principles of the Early Years Learning Framework (EYLF).
Your child will learn and grow in an environment that:
is founded on Catholic values and traditions
promotes a child's desire for learning
encourages curiosity and the skills to explore and investigate
promotes the development of positive relationships
is supported by a safe, nurturing and home-like learning environment
This translates into a learning journey for a child who commences as a 3 year old in our Catholic Early Learning Centre (CELC), moves through four schools within our Catholic learning community and then leaves as an 18 year old at the end of Year 12 and beyond.
All meals will be prepared on site.
Your child is eligible for enrolment in CELC on or after their 3rd birthday and until the age of 5. Children turning 5, on or before 31 July of that school year, are encouraged to enrol in Kindergarten.
Santa Sophia's CELC is operated by CDPSL and all enrolment decisions and places offered are made by CDPSL.
Please be aware that CDPSL have had a large amount of enquiries and interest for enrolment in 2022. For this reason, expressions of interest for 2023 are now being accepted.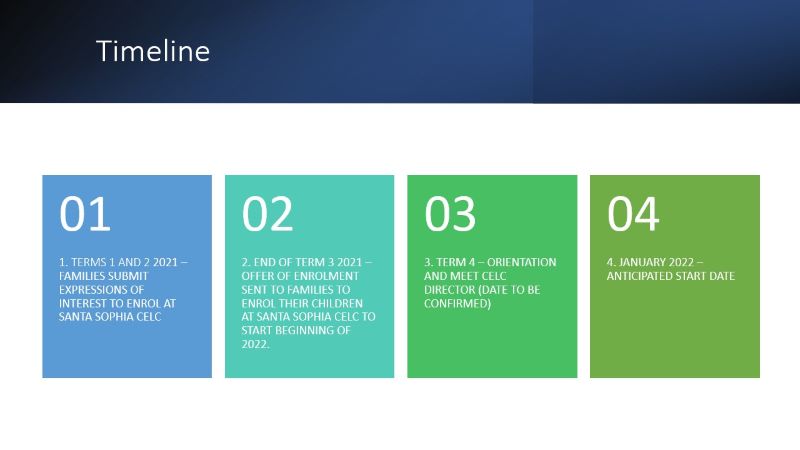 Register Your Interest in CELC