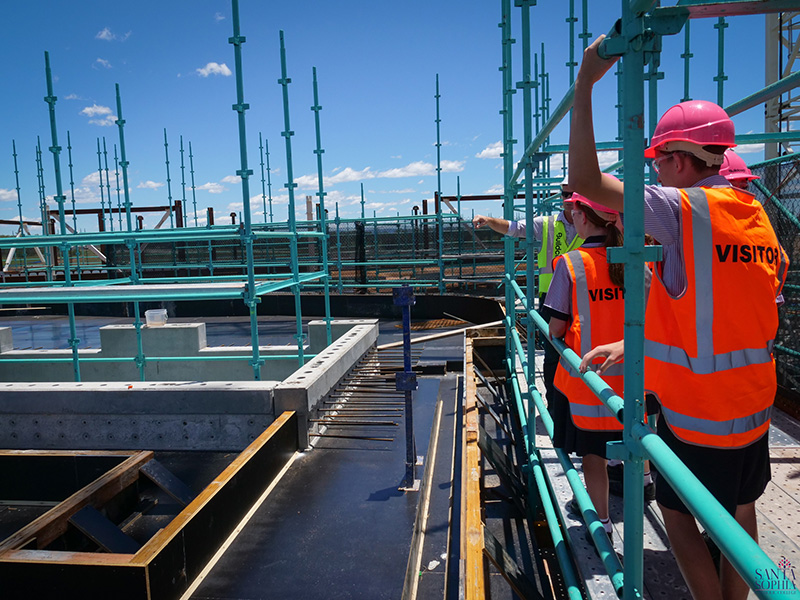 A handful of parents and students of Santa Sophia Catholic College were left buzzing with excitement after a private tour of the Box Hill site which took them to the top of the building with a grand view of The Gables, Box Hill. The site is due to be ready in just 8 months time.
Five students were selected through an application process where applicants needed to have attained their Certificate I in Access to Vocational Pathways (completed during Self-Directed Learning periods).
Joining the private tour was Greg Whitby and Christine Howe, Executive Director and Relieving Executive Director, of Catholic Education Diocese of Parramatta along with a few other representatives.
After going through the same Buildcorp safety induction each worker who steps on site goes through every morning, the group was given a tour around the site lead by the site foreman, which included a climb up several stairs to get to the very top level. From the top level, several other spaces could be pointed out, including the rooftop basketball court, the main entrance and the bus bays.
Paul Meldrum, Leader of Learning Innovations, explained how each level corresponded with different year groups - the top level predominantly reserved for Stage 6 students.
Year 9 Student, Jessica Bollard, who was the first student to be enrolled at Santa Sophia was excited to learn she'll be part of the first cohort to use the space when she's in Year 12. Mum, Kerrie, also came along for the tour with a couple other parents from our community.
More private tours with groups of selected students will be organised in early 2021, as well as a grand launch with several weekend tours planned for late 2021.