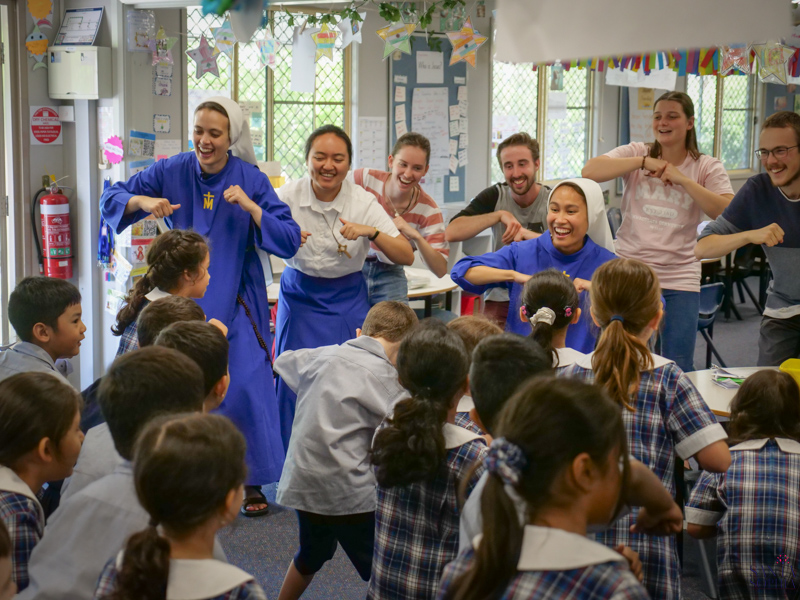 We were so blessed to have the Sisters of the Immaculata all the way from Tasmania visit Santa Sophia Catholic College over two days, Thursday 25th March and Friday 26th March. With a team of young missionaries, they shared their personal faith testimonies as well as stories of some courageous Saints of our Church such as Saint John Paul II, Saint Maximilian Kolbe and Saints Lucia, Francesco and Jacinta.
In the primary school, they taught our students about Jesus in the Eucharist and loving God in a new way of prayer - Adoration. The children were so excited to meet the Sisters, curious about why they wear the habit, and had so much fun playing the characters in the story of Fatima.
Sister Mary Immanuel and Sister John Mary led the children in prayer before Jesus in the Eucharist, praying: "Dear Jesus, help me to love my family, my friends and my teachers, and help me to love You." The children also shared their own intentions in prayer, including those families whose homes were lost in the recent floods.

In the secondary school, the young missionaries led some games and also shared stories of coming to know the real love of God when they were teenagers. The authenticity and sincerity in their storytelling challenged our students to think deeper about the purpose of our life and the depth of God's love for every one of us.
We hope and look forward to welcoming the Sisters back to our school soon!