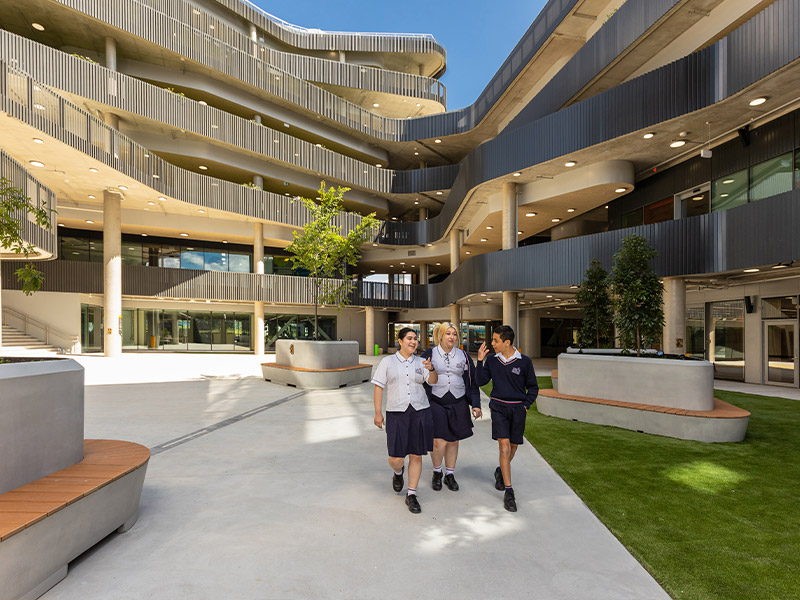 Catholic Education Diocese of Parramatta is proud to be opening the first school in the thriving new Box Hill suburb of Gables today.
State-of-the-art Santa Sophia Catholic College will meet the needs of up to 1860 students in Sydney's North West Growth Area.
Executive Director Greg Whitby says the landmark new school is all about providing local students with great opportunities to learn and grow. "We're strongly committed to making sure that students in new suburbs have access to an excellent education," Greg said. "Santa Sophia Catholic College builds on what we've learnt through the new schools we've brought to the community in suburbs like Marsden Park, Rouse Hill and Stanhope Gardens."
Foundation Principal Mark De Vries is thrilled to be welcoming his students to the stunning new school within Stockland's master planned community of The Gables for the first time. "This is such an exciting time for our growing community," said Mark. "We're so pleased to be able to welcome our students and staff onsite this year so that everyone can settle in."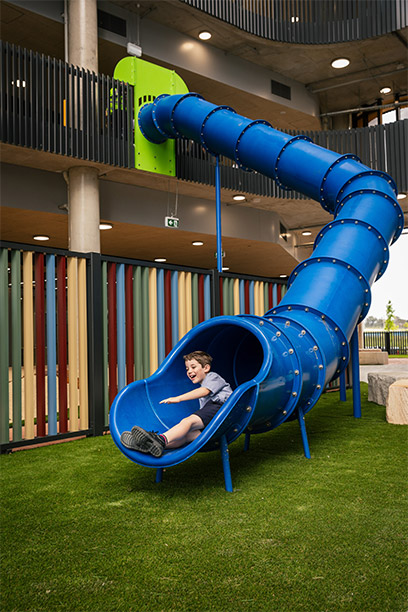 Despite modest COVID-19 construction delays, Santa Sophia Catholic College was built in just 16 months with a variety of building materials prefabricated offsite to reduce construction time.
Buildcorp Managing Director Tony Sukkar AM said: "Buildcorp is incredibly proud to see the students' and teachers' positive reactions to their new school. The innovative prefabrication strategy, early design solutions and game-changing partner collaboration enabled a swift 16 month delivery and high quality outcomes. The team worked adaptively during the pandemic using Buildcorp's industry-leading safety system to minimise impact. Our sincere thanks go to all project partners who helped us achieve Catholic Education Diocese of Paramatta's aspirational vision for a world-leading education hub for the community."
The $150 million 4 to 6 storey College features play equipment that allows students to move between floors by slippery dip and climbing nets and incorporates eco-ventilation. Specialist learning areas to support students in following their interests and developing workforce skills include a cafe style canteen with commercial kitchens to be used by hospitality students, an industry-standard creative and performing arts centre with a professional-quality sound studio, and advanced STEM (Science, Technology, Engineering and Maths) facilities. There is also an on-site childcare centre for 60 children, before school care from 6:30am and an after school activities program until 6:00pm featuring a homework club supervised by teachers.
"It's so amazing," said Year 8 student Darcy Zahra. "The facilities here are incredible, especially the basketball court and the fact it's on the roof is so cool. The learning opportunities are endless and suit so many different students."
Santa Sophia Catholic College will be in the heart of a future Town Centre, which has plans to include a supermarket, specialty shops, and food and dining offerings. There are plans for more than 2000 homes in The Gables, and according to Hills Shire Council's plans, the precinct could eventually be home to approximately 13000 residents.
Richard Rhydderch, Stockland's General Manager of NSW Communities, said Stockland was excited about the opening of this contemporary and innovative school which will be in the heart of the future Town Centre.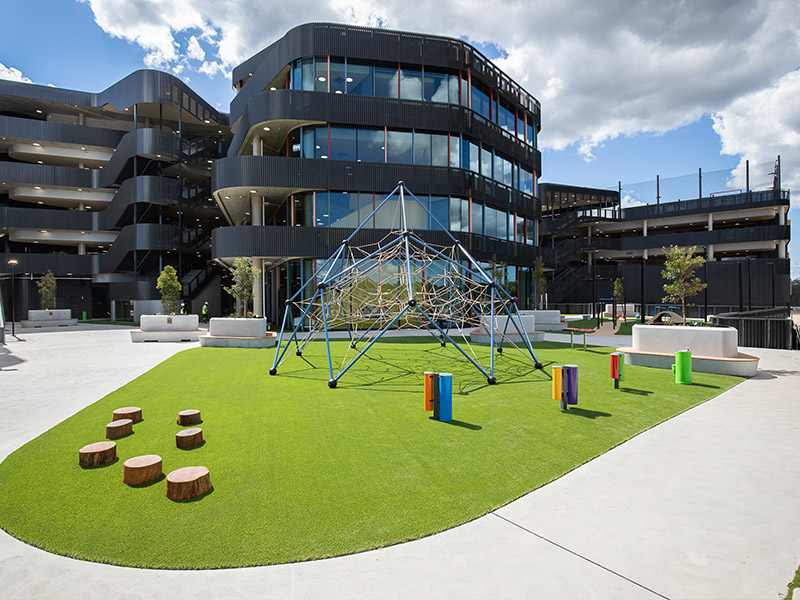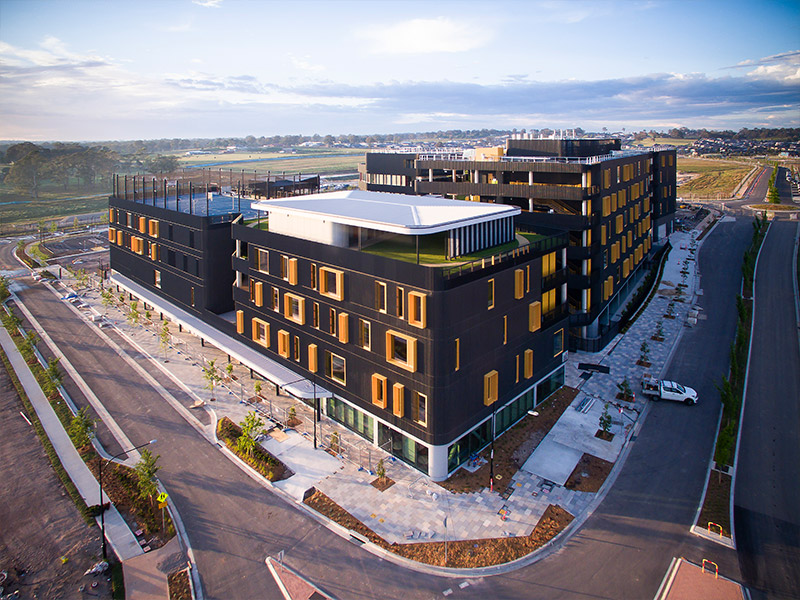 "People coming to The Gables are attracted by the open space and natural environment that The Hills area provides as well as the access to education, retail and services, transport and employment. Santa Sophia Catholic College will be a major drawcard in bringing more people to the community. We congratulate Catholic Education Diocese of Parramatta on creating a beautiful, modern school and welcome the students, families and College staff to the growing community at The Gables," Richard said.
Hills Shire Council Mayor Dr Michelle Byrne congratulated the College community on this important milestone.
"Growing up, my mother always told my sisters and me that 'education opens doors'," Dr Byrne said. "I hope that the education your students receive will set them up for some wonderful opportunities in the future."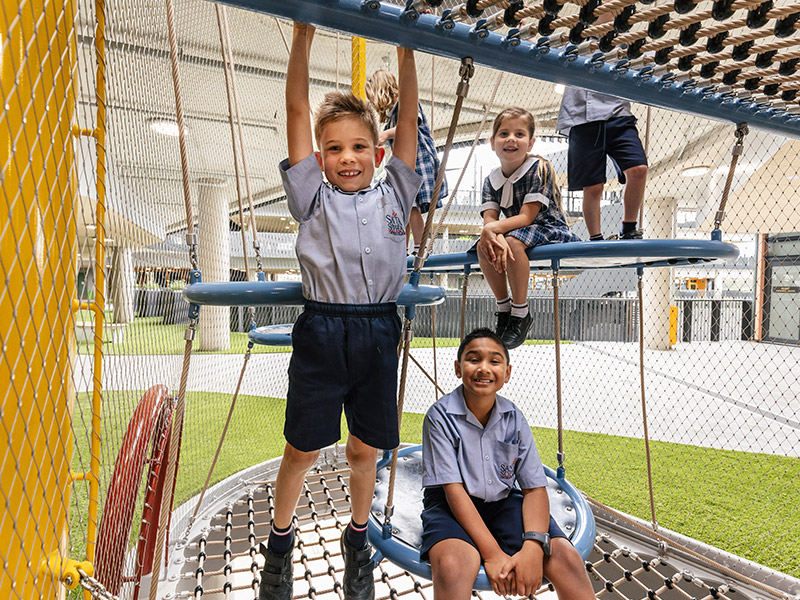 At the beginning of the 2022 school year, the Santa Sophia Catholic College community will grow to welcome 1000 new students after operating from smaller temporary locations for several years and 30 new teachers have been hired to support this growth. Enrolment demand is extremely strong with a waiting list established for some grades.