Santa Sophia Catholic College is a co-educational school for students from Preschool to Year 12, providing an innovative learning environment, with a focus on developing skills for the future.
Santa Sophia Catholic College provides a Christ-centred environment, aimed at educating the whole child, and helping students to be people of true wisdom through faith, hope and love.
Based on leading educational research and the best of today's technologies, we will prepare students for the workplace of the future by teaching them how to think critically and creatively, how to communicate effectively and how to work collaboratively.
'Santa Sophia Way'
Our educational approach places individual student learning plans at the centre of all learning.
Santa Sophia offers an alternative to traditional schooling, using student interest, innovative learning styles, flexible timetables and the Australian Curriculum to intentionally enhance every child's learning adventure.
The 'Santa Sophia Way' provides a framework for decision-making and to help students understand what it means to be Catholic in our modern world and aims to help students SEE, JUDGE and ACT with wisdom in order to make a real difference to the world. Every student and teacher builds these core values into their lives.
Through strong partnerships with leading industry organisations, our students benefit from workplace experience, internships, sponsorships, guest lectures and industry insights giving them a significant advantage and foot in the door of their chosen career.
The 'Santa Sophia Way' is all about equipping our students with industry knowledge and experience – before they graduate - and reimagining learning and teaching.
The Santa Sophia Way...
| | | |
| --- | --- | --- |
| | | develops intelligence through knowledge, experience, creativity and thinking in ways that keep curiosity and imagination alert |
| | | |
| --- | --- | --- |
| | | embraces the teaching of 21st century skills of design thinkers, innovators, change agents and entrepreneurs |
| | | |
| --- | --- | --- |
| | | celebrates success when students are progressing, engaged and their spirit for learning is shining bright |
| | | |
| --- | --- | --- |
| | | provides a developmental and student-centered approach to learning with a focus on learning how to learn |
Our Beginnings
Santa Sophia Catholic College commenced in 2018, operating on temporary sites at Kellyville (Primary students) and Schofields (Secondary students). In response to the rapid growth of the dynamic new Gables area, Catholic Schools Parramatta Diocese (CSPD) is creating a contemporary preschool to post school learning community. Upon completion, Santa Sophia Catholic College will be a co-educational school accommodating up to 1,920 students from preschool to Year 12 and beyond. This is inclusive of an early learning centre for 60 children.
Our new home opened to students at the Gables site during Semester 4, 2021. The College has been designed around learning hubs connected by terraced courtyard learning spaces. It will include approximately 15,000sqm of floor space across five storeys. CSPD is creating a school that will prepare students with the skills and knowledge they will need for a rapidly changing world.
Our Patron Saint
Our patron saint is Saint Sophia, who refused to renounce her faith in Christ. Her Feast Day, for the Catholic Church, is 15th May. The name Santa Sophia means 'Holy Wisdom' and can be traced back to Greece in the days of the Roman Empire.
The Holy Spirit imparts seven gifts to those fully initiated into the church; wisdom is at the top of that list, followed by understanding, knowledge, counsel, courage, reverence and wonder in God's presence. Wisdom comes first as the grace that assists in the practise of all other virtues, and it is wisdom we seek at our college.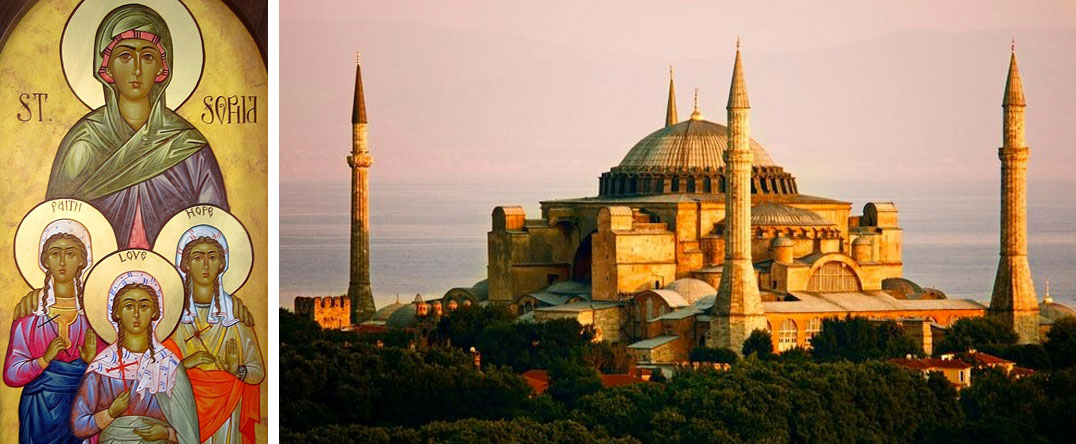 Our Logo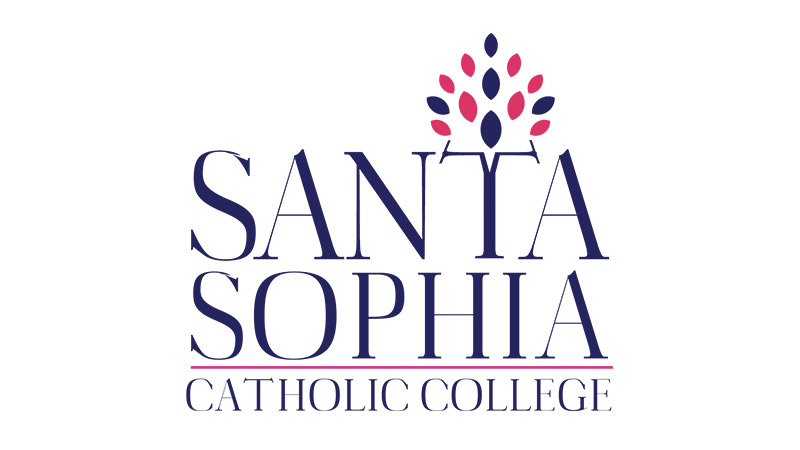 The school crest for Santa Sophia Catholic College is imbued with the charism of Saint Sophia and the values of Wisdom, Faith, Hope and above all Love. It is a symbol that reflects the Santa Sophia Way.
The TREE is a symbol of growth and wisdom. It is a living thing - as we grow and develop we become more mature, our personality emerges and begins to flower and fruit ( a very feminine symbol - Santa Sophia was also a mother) providing a path to the wider world and life-long learning. It is also a symbol of renewal and rebirth.
WISDOM is the first and highest gift of the Holy Spirit. The Holy Spirit is often represented by flame or fire. The leaves on the tree are not drawn as a typical leaf but more as a stylised flame shape. If you look closely you will see the use of negative space to create a flame shape from the arms to the top leaf.
Our Prayer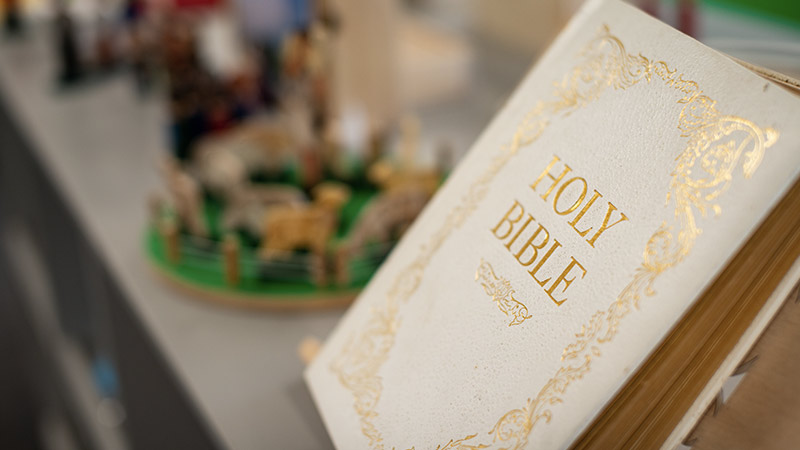 Almighty God, You have called each of us by name.
Help us to do Your holy will and never forsake us.
Grant us Thy holy aid, that our hearts are not frightened by any worldly struggles to do Your will.
May we be open to the Good News of Jesus Christ who is Wisdom itself.
We ask the intercession of Mary the Queen of Heaven and St Sophia
to help us live out faith, hope and love each day.
We make this prayer through Jesus Christ Our Lord.
Amen.

St Sophia, pray for us.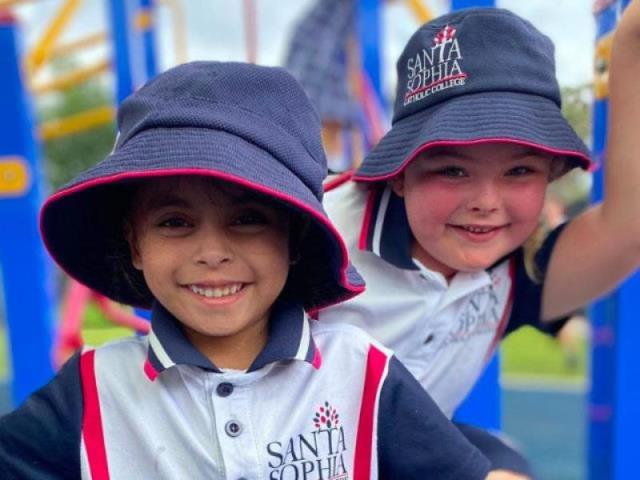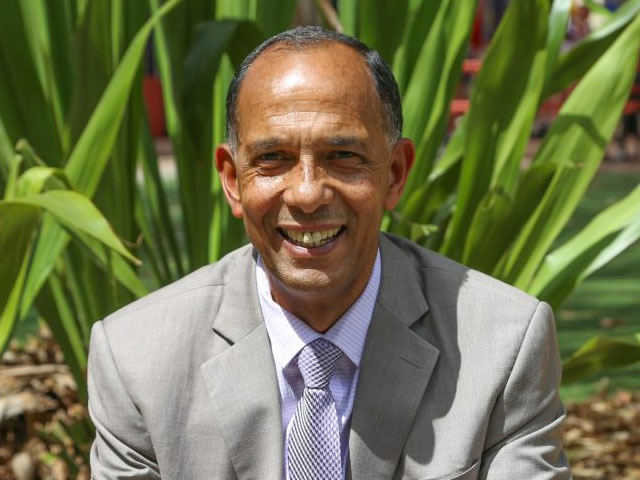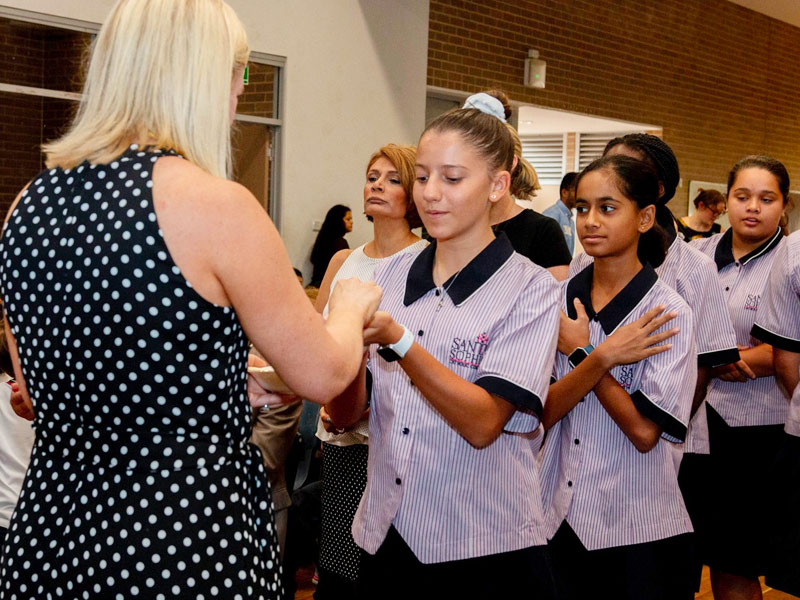 Santa Sophia isn't like other schools
DON'T TAKE OUR WORD FOR IT - VISIT US AND EXPERIENCE THE SANTA SOPHIA WAY FOR YOURSELF