At Santa Sophia, our aim is to instil in our students and staff a love for the Catholic faith. We invest in teachers that authentically support the Catholic ethos to help educate your children about the truth and love of Jesus which sets us free from sin.
Our mission can be summed up in one word 'Agape' - the love of God for man and the love of man for God. It is through this love that our school is able to provide ample and diverse opportunities for students to love their neighbour and encounter the real presence of Jesus.
Students at Santa Sophia learn to respect human persons created in the image of God and to maintain a culture of reverence and respect for prayer across the College community.
Prayer Life
As a Catholic school community, we prioritise providing students an opportunity to connect with Jesus Christ throughout their week at school. The prayer life of the school is integral throughout our day both inside and outside the classroom and the importance of fostering a relationship with God is emphasised through:
School of Curiosity (K-4)
Daily Prayer circle
Daily College prayer
Daily Angelus at 12pm
Weekly before school Mass on Fridays
Regular visits from Parish Priests
Visits to the Blessed Sacrament
School of Connect & Challenge (5-8 & 9-12)
Homeroom formation and College prayer
Classroom prayer before each period
Daily Angelus at 12pm
Weekly Rosary at lunch
Weekly before school Mass on Fridays
Regular opportunities for Adoration of the Blessed Sacrament
Regular opportunities for Reconciliation
Excursions/incursions
School retreats
Pilgrimages (World Youth Day or local)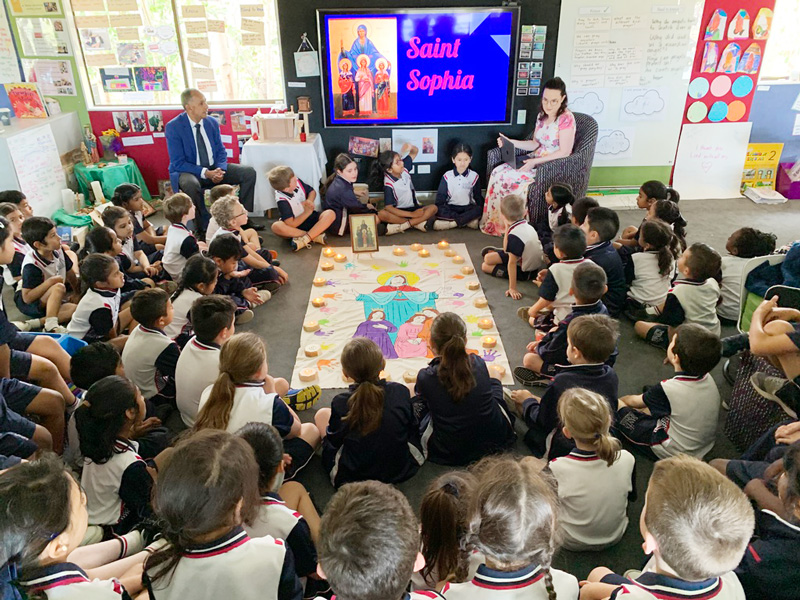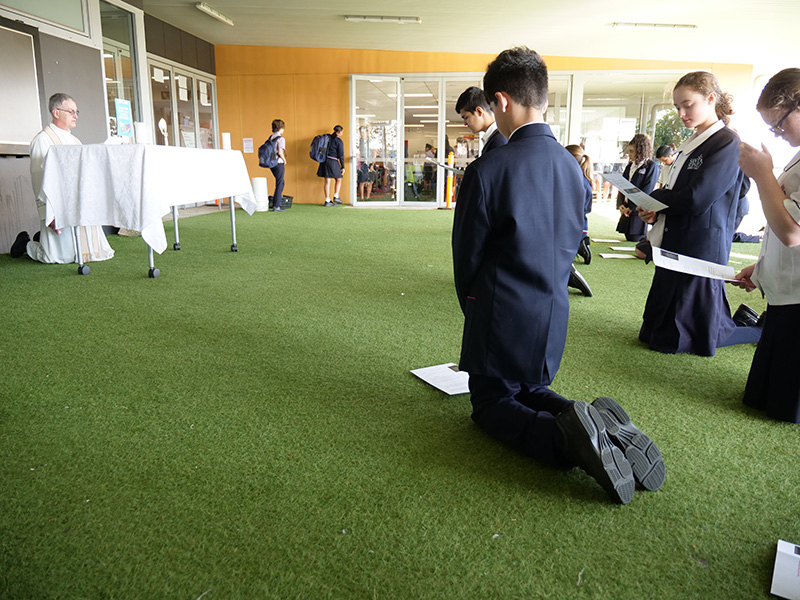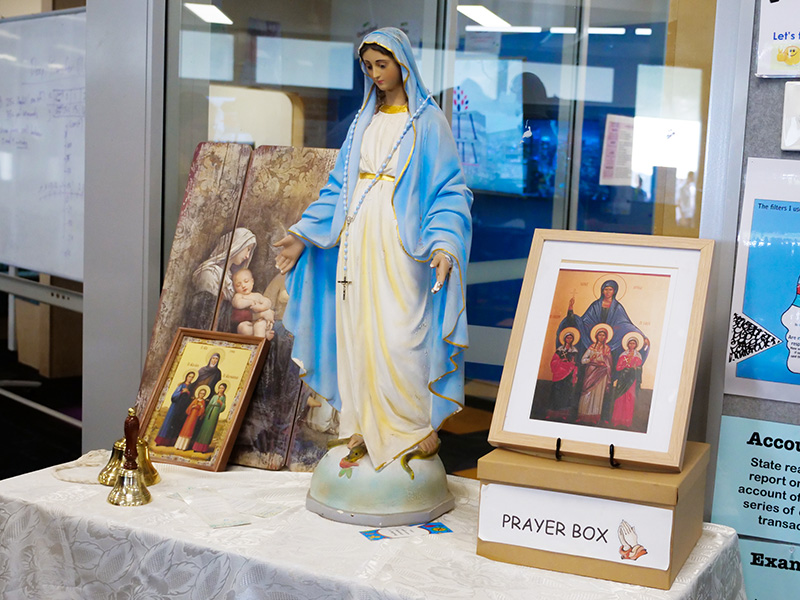 Parish Community
The spiritual activities of Santa Sophia are supported by our local parish community, Our Lady of Angels Rouse Hill, and its parish priests serve as our College Chaplains. They regularly visit our College to administer the Sacraments, provide formation, and are available to students and staff for spiritual accompaniment.
http://ourladyoftheangels.org.au/
Teaching of Religious Education
As a Catholic College, the study of religion is an important part of the curriculum. Children are educated in the teachings of the Catholic faith and the values of the Gospel.
SCHOOL OF CURIOSITY (K-4)
Religious Education in the School of Curiosity (K-4) uses the Scripture and Liturgy Teaching Approach (SALT), which has been developed by Dr Anne-Marie Irwin from the University of Notre Dame Australia. This methodology focuses upon fostering the personal encounter with God through Jesus Christ, God-made-man, involving an atmosphere of quiet recollection and times of pondering and personal choice-making.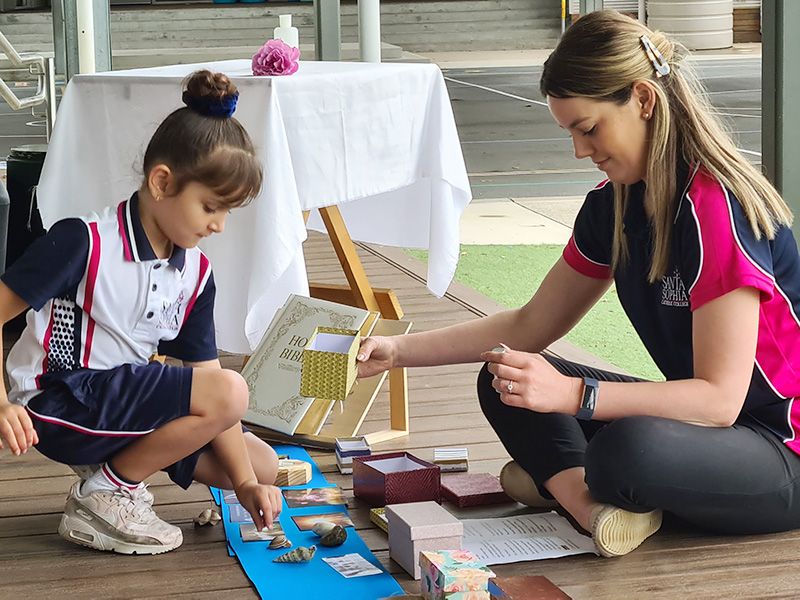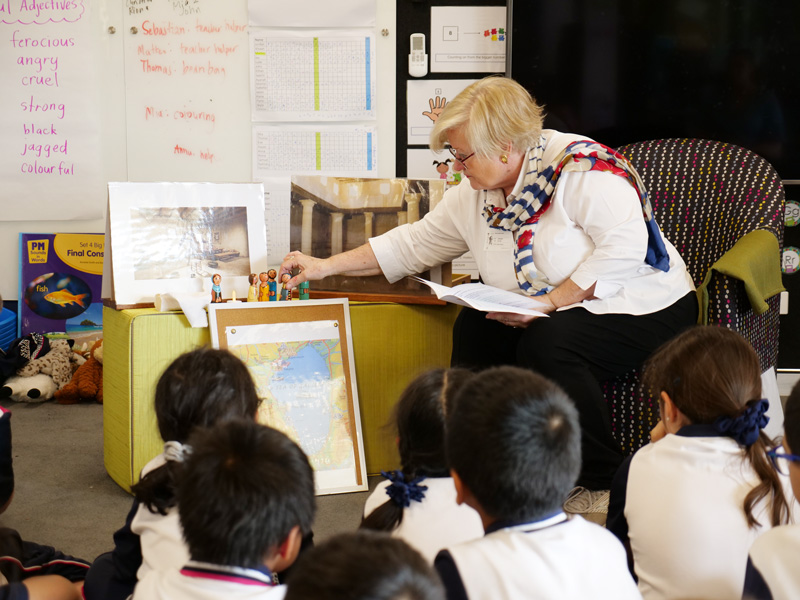 SCHOOL OF CONNECT (5-8) & SCHOOL OF CHALLENGE (9-12)
The religious education team plans and creates engaging lessons and purposeful opportunities for students to become knowledgeable about the distinctive teachings, traditions and practices of the Catholic Church. Religion lessons are constructed to help and encourage students to live out the Gospel and serve the Catholic Church by giving witness to the College values of wisdom, faith, hope and love in all areas of their everyday lives.
Religious Education is taught in Years 5-10 and Studies of Religion is a compulsory HSC unit for Years 11 and 12.
Come and see!
WE'D LOVE TO SHOW YOU HOW FAITH PLAYS A LARGE PART OF OUR LEARNING COMMUNITY