At Santa Sophia, we believe that authentic learning and growth are fostered through positive relationships
Our approach to student wellbeing is underpinned by our understanding that a sense of connectedness in schools promotes the optimal development of the student as a whole, which in turn, contributes to their academic and social success. The relationship between the student and teacher is at the heart of pastoral care.
All staff members actively promote student wellbeing at Santa Sophia. More specialist wellbeing support is provided by the Wellbeing Leader, the primary school counsellor and the secondary school counsellor. Ongoing professional learning is provided to teachers in regards to mental health issues, wellbeing, behaviour support and disability support.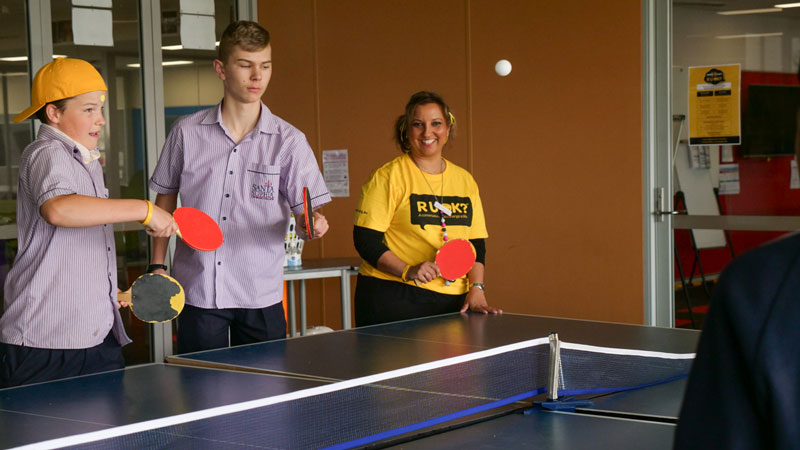 Positive Behaviour Support For Learning (PBS4L)
As part of the school wide wellbeing focus, Santa Sophia Catholic College strives to build a warm, connected, safe and cooperative learning environment guided by the Positive Behaviour Support For Learning (PBS4L) framework. PBS4L is a transparent framework that encourages parent, student and teacher voice. It is a collaborative community effort aimed at encouraging more positive social and learning behaviours within our school community to maximise student wellbeing and learning outcomes.
The purpose of PBS4L is to develop effective school-wide systems and practices that are informed by data to get more positive outcomes for students both socially and academically. The fundamental principle behind PBS4L is that behaviour is learnt and therefore can be taught. It is important to understand that PBS4L is a universal framework that is relevant for everyone within the school. It is not just for students with additional needs, though these students will likely need higher levels of support within the framework.
Acknowledging Positive Behaviour
At Santa Sophia, we recognise positive student behaviours in a number of ways. This includes verbally praising students explicitly, using non verbal cues (e.g., thumbs up, smiles, nods) and/or putting a Santa Sophia stamp on their chart (primary)/diary (secondary) when we observe positive behaviours. When students accumulate a set number of stamps, they may trade these in for a reward of their choice from a reward menu designed by the students in conjunction with their teachers (e.g., 10 mins free time at a designated time, a special privilege, invitation to morning tea, teacher's helper, free time with a friend, etc). These different methods help to engage and motivate students and to show them what behaviours are valued in the school community so these positive behaviours become more frequent and practiced. The stamp system begins again each calendar year.
Students who consistently follow the college values and expectations of behaviour, may be nominated by a teacher for a PBS4L certificate to recognise consistent effort or achievement in a particular area. These certificates are more difficult to attain than a stamp as each teacher nominates only one or two students a fortnight. Once a student receives five certificates, they will earn a Principal's Bronze Award, 10 certificates earns a Principal's Silver Award and 15 certificates earns a Principal's Gold Award with a gold badge. The certificates are recorded on the school database and accumulate over the student's entire time at Santa Sophia. Students who have accumulated a number of certificates in their school life at Santa Sophia, have objective evidence that they have consistently adhered to our school values and are therefore identified to be potential leaders within the school community.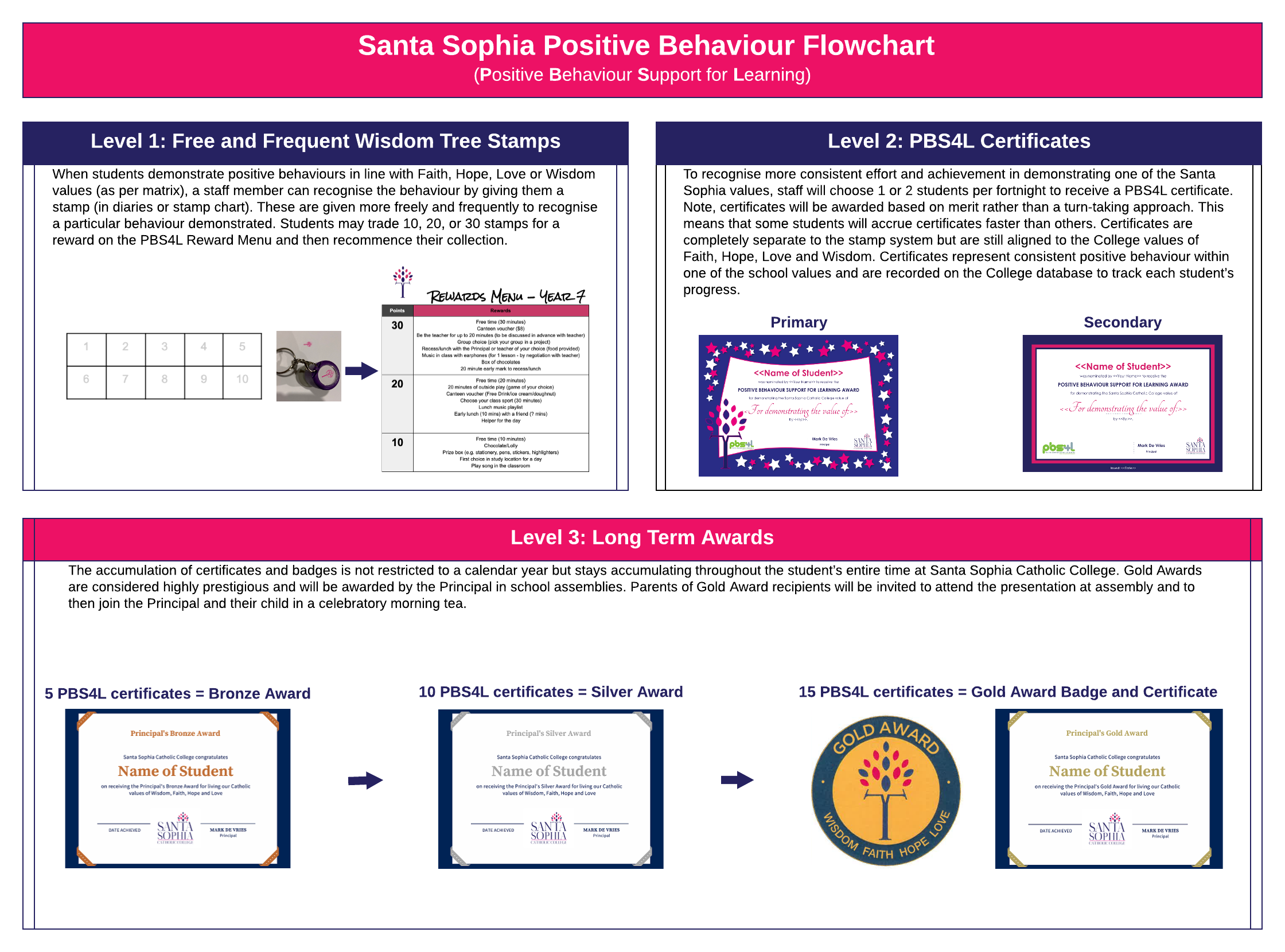 Discouraging negative behaviours
Just as we aim to re-teach student academic errors, we also aim to re-teach incorrect or problem behaviours. Teacher correction is calm, consistent, brief, immediate and respectful. If a prompt, redirect, re-teach, the provision of a fixed choice or a student conference has not been successful in addressing the problem behaviour, the teacher may provide a logical consequence designed to help the student re-learn the more appropriate behaviour. For example, if a student was misbehaving to avoid classwork, a logical consequence might be to stay in briefly at recess/lunch to complete the missed work.
Any behaviour that is considered Major (deliberate actions that are persistent or offensive/dangerous to the physical and/or emotional wellbeing of self/others) will have fewer steps and have leadership involvement.
View our decision making flowchart around behaviour concerns.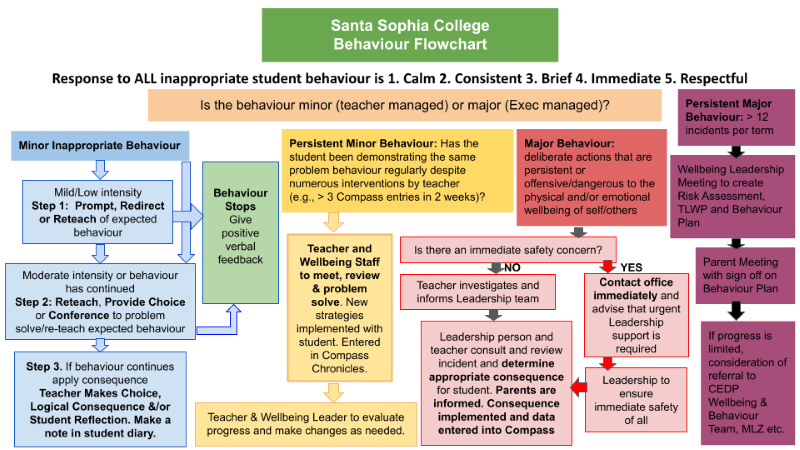 Meet Arlo - Our Wellbeing Dog
At Santa Sophia College, we are constantly challenging ourselves to 'think outside the box' as we strive to be innovative in our learning and teaching and to build strong school connections that enable our students to reach their full potential. After doing a lot of research, we believe that having our own school wellbeing dog will not only enhance learning and wellbeing by engaging students more, but also help build a strong emotional connection between students and our school, thereby also improving a sense of belonging and connectedness which would in turn improve wellbeing. Wellbeing dogs in schools are becoming more and more common due to their unique ability to improve outcomes in literacy and wellbeing simply by their very presence.
In 2020, the Santa Sophia Catholic College purchased a Groodle and following input from students, staff and families, our puppy was named by popular vote - Arlo.
Arlo was named after the lead character in the book and subsequent movie 'The Good Dinosaur'.
The character of Arlo was an anxious young dinosaur who befriended a human child after he became separated from his family. Together they formed a strong friendship and faced many challenges. Gradually as they journeyed together, Arlo learnt to become stronger and braver and overcame his fears.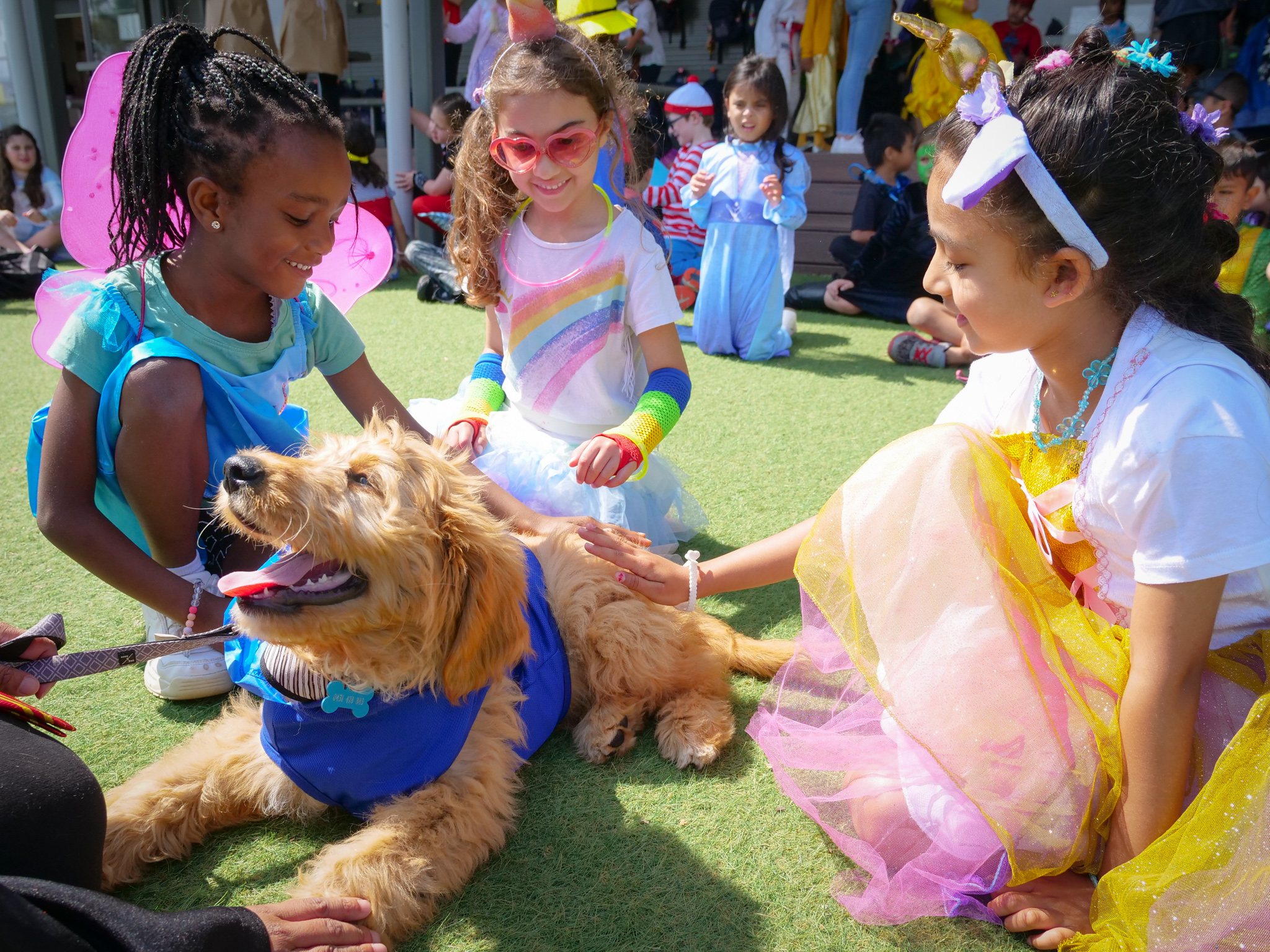 How we use Arlo at Santa Sophia
In literacy programs, dogs can be extremely helpful when students are anxious about reading aloud for fear of making mistakes. Reading to a dog who is non judgemental means students are more prepared to make mistakes as the dog's presence is relaxing and provides comfort. A trained staff member will always be present whenever a student is in the presence of Arlo, and may "speak through" him by asking questions to check the child's understanding of the text.
For example, "Arlo is a bit confused about what happened to Tommy when he went to the farm. Can you explain it to him?"
This means the child is motivated to read for meaning and is encouraged to summarise what is happening in the story. They see themselves as helping Arlo rather than focusing on their perceived or actual learning deficits. It also encourages them to engage more in literacy and increase self confidence.
Having Arlo present during a lesson or specialist intervention that a student may normally find anxiety provoking, can help reduce stress levels thereby helping students to be more open to processing new information and consolidating existing knowledge.
Arlo will also be used to support students with learning difficulties, loneliness, friendship/social issues, exam stress, family troubles and mental health issues. Students may be more open to getting assistance, skills and strategies from members of the Wellbeing Team if they know Arlo is also able to provide comfort and support through this process. Furthermore students with attendance issues may be more willing to attend school if they know they will be seeing Arlo as a reward. Arlo can also be present during the numerous group programs that the College's Wellbeing and Diversity team currently provide (e.g., anxiety groups, social skills groups and lunchtime games club).
We hope that as Arlo matures, he can serve to unite our whole school community by building a sense of connectedness and belonging.
When schools and families work together to communicate effectively and respectfully toward the common goal of helping a student, it is much more likely to be a successful intervention. School staff can help families support their children at home in learning and in developing academic, social-emotional and behavioural skills.
Support for families
To support students and families in wellbeing, the school has a number of initiatives that are run by the Wellbeing Team within the school including:
individual school counselling for students and parents
small group counselling for students needing specific social skills training
small group counselling for students experiencing high levels of anxiety
parenting seminars for primary school parents
consultancy around wellbeing and behaviour issues for both parents and staff
Collaboration with external professionals as needed
Extensive collaboration with the school Diversity Team
Facebook Live sessions around wellbeing topics.
Student Safety
Santa Sophia is committed to keeping our students safe at school and we adhere to the National Catholic Safeguarding Standards and support the National Principles for Child Safe Organisations. A range of checks and undertakings are required for people who work for or provide services to the college. These checks reduce potential risk and form part of the Catholic Schools Parramatta Diocese (CSPD) strategy to build child safe communities.
If you have any questions or comments around any of the Wellbeing initiatives, please contact Anoushka Houseman (Wellbeing Leader) on the school number 8801 6200 or email at ahouseman@parra.catholic.edu.au.
At Santa Sophia students feel supported, safe and seen
CONTACT US TODAY TO FIND OUT HOW TO JOIN OUR WELCOMING SCHOOL COMMUNITY